Shopping Cart
Your Cart is Empty
There was an error with PayPal
Click here to try again
Thank you for your business!
You should be receiving an order confirmation from Paypal shortly.
Exit Shopping Cart
As everybody should know Bahrain is depended for most of it domestic en industrial water on the desalinating plants around the coasts of Bahrain.
Because of this the agricultural section in Bahrain is depending on the Government to supply water to the farms around the Kingdom.
One type of water is waste water - and frankly would you eat produce grown on domestic waste water? No just look at the signboards posted next to palm trees alongside the roads saying not drinking water.
That makes the dates unconsumable also.
One way to produce fruit and vegetable are hydroponic gardens and Al Ghalia Farms are doing just that.- which uses a fraction of the water and they of course use desalinated water.
Hydroponics is a subset of hydroculture and is a method of growing plants using mineral nutrient solutions, in water, without soil. Terrestrial plants may be grown with their roots in the mineral nutrient solution only or in an inert medium, such as perlite, gravel, mineral wool, expanded clay pebbles or coconut husk.

Why buy Local ?

Because they are local, the produce doesn't have to travel far.
This reduces carbon dioxide emissions and the use of packaging materials which are used in shipping.
Imported fruits and vegetables can spend as many as 7-14 days in transit before they arrive to the supermarket.
Most varieties of produce are chosen for their ability to withstand industrial harvesting equipment and extended travel, NOT TASTE.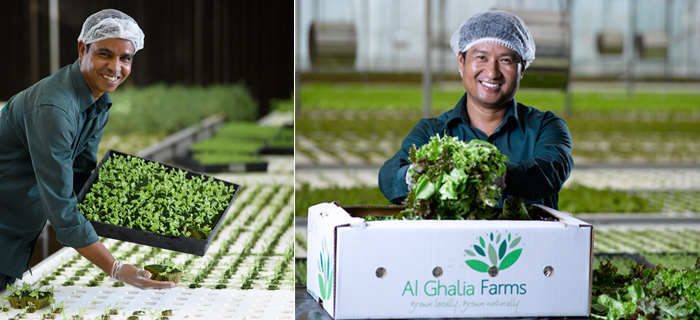 This results in little variety in plants grown and some not so robust produce becoming very expensive.
Now they are able to supply you, the local community, which means you, get unmatched freshness at steady, competitive prices, 365 days a year.
The produce contains maximum nutrients and superior flavor because they are picked at the peak of ripeness and delivered fresh. And local dinars stay in the community and the local economy.
Where can you buy this fresh produce?
At this time they do not sell direct to the public however, please ask your local green grocer for Al Ghalia farms produce today.
inquiries: e mail : [email protected] / Tel : 00973 33277122
Categories: 2013
/