Shopping Cart
Your Cart is Empty
There was an error with PayPal
Click here to try again
Thank you for your business!
You should be receiving an order confirmation from Paypal shortly.
Exit Shopping Cart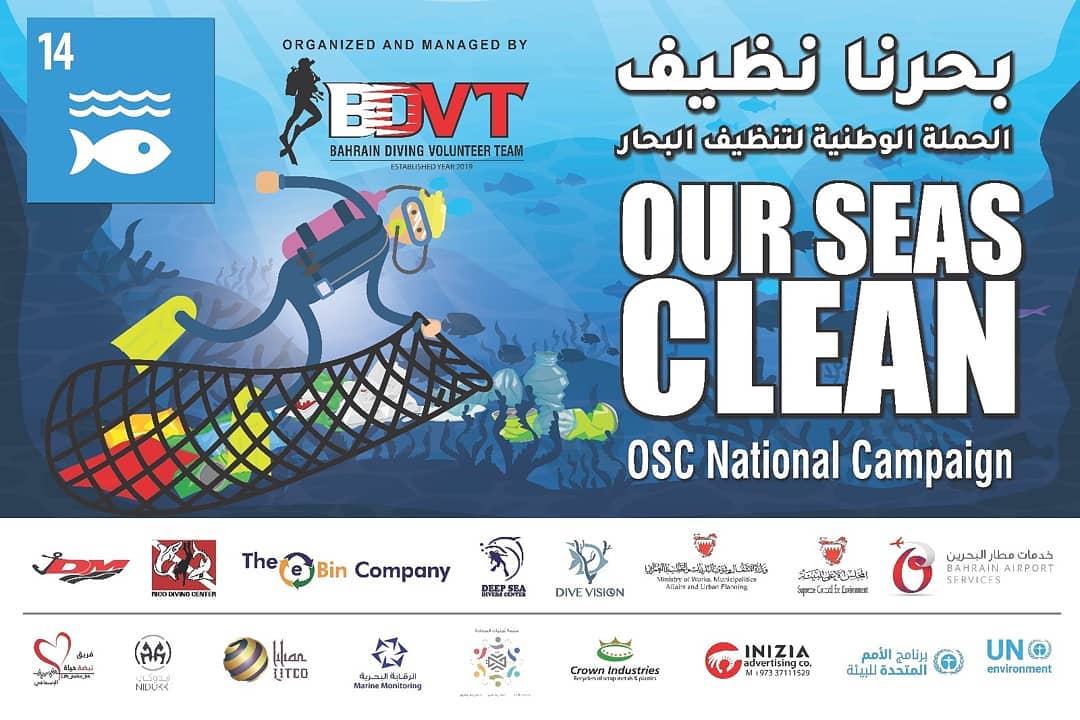 A campaign to clean up the seas starts tomorrow, Friday 16 August 2019
Entitled "Our Sea is Clean", led and organized by the Bahrain Volunteer Diving Team in cooperation with the Supreme Council for the Environment, in order to promote community partnership, create a conscious society and preserve the marine nature and wildlife safety in all ports, beaches and islands in the Kingdom of Bahrain. The campaign will include the following: • Cleaning harbors, beaches and sea islands and removing all types of waste to provide a safe, clean and healthy environment for seafarers and fishermen.Waste will be sorted and distributed to various concerned parties, recycled and directed to charity or safe disposal.
The campaign will be from 16 August to 21 September 2019 in several stages per week with timing in two periods: • Friday from 8:00 to 10:30 am • Saturday
From 3:00 pm to 5:30 pm
Based on His Majesty's vision and directives in achieving sustainable development goals to protect and preserve the environment in order to achieve development and achieve the economic strategic vision 2030.
Sponsors and supporters of the cleaning campaign are: • The Supreme Council for the Environment.
• Directorate of Marine Control (Fisheries)
• United Nations Environment Organization.
• Ministry of Interior (Coast Guard)
• Ministry of Works and Municipalities Affairs.
• Bahrain Airport Services Company (BAS)
• Pulse of life.
• Happiness manifestations platform. • CROWN INDUSTRIES • EBIN COMPANY • NIDUKKI • DELMA MARINE
• Dive Vision
• RICO DIVING CENTER
• DEEP SEA DIVING CENTER
The door is open for volunteer work for both sexes
For more information, follow @bdvt.bh on Instagram 39878726 - 37373797

حملة لتنظيف البحار تنطلق غداً يوم الجمعة الموافق 16 أغسطس 2019
بعنوان "بحرنا نظيف" بقيادة وتنظيم فريق البحرين للغوص التطوعي بالتعاون مع المجلس الأعلى للبيئة ، وذلك لتعزيز الشراكة المجتمعية وخلق مجتمع واعي والحفاظ على الطبيعة البحرية وسلامة الحياة الفطرية في جميع المرافئ ، الشواطىء و الجزر البحرية في مملكة البحرين. وستشمل الحملة التالي: • تنظيف المرافىء, الشواطئ والجزر البحرية وشطب جميع أنواع المخلفات لتوفير بيئة آمنه ونظيفة وصحية لمرتادي البحر والصيادين، كما سيتم فرز النفايات وتوزيعها على مختلف الجهات المعنية وإعادة تدويرها وتوجيهها للأعمال الخيرية أو التخلص منها بطرق أمنه وسليمه.
وسوف تكون الحملة إبتداءً من الموافق 16 أغسطس لغاية 21 سبتمبر 2019 على عدة مراحل أسبوعياً مع التوقيت على فترتين: •اليوم الجمعة من 8:00 لغاية 10:30 صباحاً • اليوم السبت
من 3:00 عصراً لغاية 5:30 مساءً
وبناء على رؤية جلالة الملك المفدى وتوجيهاته السامية في تحقيق أهداف التنمية المستدامة لحماية البيئة والمحافظة عليها بما يحقق التطور والتنمية وتحقيق الرؤية الإستراتيجية الاقتصادية 2030 .
الرعاة المشاركين والداعمين لحملة التنظيف هم: • المجلس الأعلى للبيئة.
• مديرية المراقبة البحرية (الثروة السمكية
• منظمة الأمم المتحدة للبيئة.
• وزارة الداخلية (خفر السواحل
• وزارة الاشغال وشؤون البلديات.
• شركة خدمات مطار البحرين (باس
• نبضة الحياة.
• منصة تجليات السعادة. • CROWN INDUSTRIES • EBIN COMPANY • NIDUKKI • DELMA MARINE
• Dive Vision
• RICO DIVING CENTER
• DEEP SEA DIVING CENTER
الباب مفتوح للعمل التطوعي للجميع من الجنسين ... للإستفسار الرجاء الإتصال على الأرقام التالي:
39878726 - 37373797
Categories: 2019
/