Shopping Cart
Your Cart is Empty
There was an error with PayPal
Click here to try again
Thank you for your business!
You should be receiving an order confirmation from Paypal shortly.
Exit Shopping Cart
GDN  June 12 2019
Bahrain said it will begin regulating and banning plastic usage from next month.(July 2019)

The first phase will focus on single-use plastic bags as well as banning the import of non-biodegradable plastic bags, Supreme Council for Environment chief executive Dr Mohammed Mubarak bin Daina said. **they forget that biodegradable plastic reduces the quality of recycled plastic**

Later phases will witness a permanent ban on the use of plastic bags at certain malls and supermarkets. **what about all shops that give out free single use bags**

This is in line with directives by the government executive committee – chaired by His Royal Highness Prince Salman bin Hamad Al Khalifa, Crown Prince, Deputy Supreme Commander and First Deputy Premier – and following an order by the ministerial committee for urbanisation and infrastructure, Dr Bin Daina said.
He said its study including ways of finding viable alternative solutions to plastic and the impact of plastic use in the food service industry. ** Especially all the individual in plastic packed food items currently served to patients in all the hospitals**

Dr Bin Daina said the Crown Prince's directives and the issuance of the ministerial order has allowed Bahrain to join a number of leading countries in banning the import of plastic waste, following a UN call to mitigate ocean pollution and climate change. **while we are at it lets clean the Arabian gulf coastlines as part of municipality to-do-list**

The council has already implemented measures such as increasing the number of recycling bins to reduce plastic waste ending up in landfills.
Forty per cent of household waste comprises plastics, which can only be effectively reduced through prohibition and regulation, he said.
He praised citizens' awareness of environmental conservation which has facilitated the implementation of various initiatives.
Great to hear that but where are those bins can we have locations please!
The capital Muharraq and part of the Southern governate have 45+ locations where colorful bins are supplied by the GCCC cleaning company that can be located by installing an app, however they have been lax in cleaing then out on a faster schedule as can see from the picture a lady living in Amwaj send in.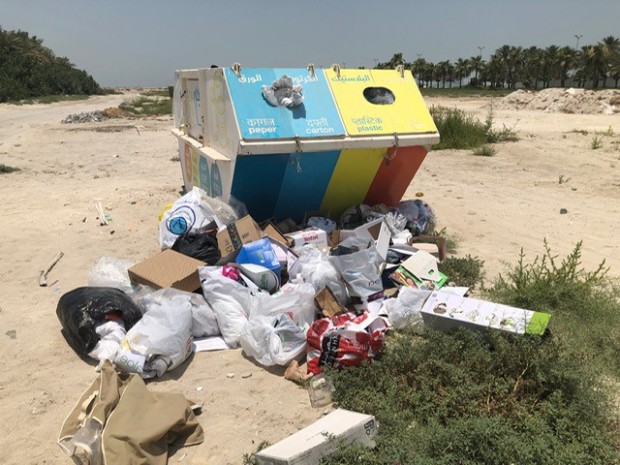 The whole of the northern Governate has only 8 such locations (see urbaser locations) to service over 300 000 people which is far to little to have a real impact on the waste that is currenly collected in general bin bags.

So where does the plastic go and what is done with it? It is not (yet) reprocessed in Bahrain but baled up and send abroad.
The ban is great but its only the tip of the (waste) mountain, what about other single use items like styrofoam containers, takeaway cups etc, glass bottles that can not be brought back to manufacturer and are cleaned and refilled (like coco cola, pepsi etc) this scheme should be re-established - it would mean a great amount of glass would be saved from the landfll.

Glass is  the one product that can be indefinitly recycled without impact of quality - right now there is only one option in Bahrain - repurpose  or bin it.
In our household it gets reused mulitiple times for small items, spices, art projects and preserves.
What do you do to make a difference or is your head still in the sand believing it is not your problem?

Categories: 2019
/